Llio rhydderch
Llio rhydderch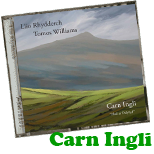 Llio rhydderch
Llio rhydderch
Llio Rhydderch & Tomos Williams : Carn Ingli
Llio Rhydderch is releasing her eagerly awaited 5th CD 'Carn Ingli' on fflach:tradd as the West Wales company celebrates 30 years as one of Wales' leading record labels.
Renowned Triple-harpist Llio Rhydderch has teamed up with young trumpeter Tomos Williams on their astonishing new CD 'Carn Ingli', subtitled 'Hud ar Ddyfed' (the magic of Dyfed), which revisits Welsh folk melodies.
Recorded live in a 600 year-old Tudor gatehouse at the foot of Carn Ingli mountain in North Pembrokeshire, this beautiful record has undoubtedly been touched by the magic of the surrounding landscape.
The combination of triple harp and muted trumpet is augmented on certain tracks by the sensitive and atmospheric drumming of Mark O'Connor.
The CD features solo, duo and trio tracks, all Welsh folk melodies taken from the manuscripts of John Parry, Iolo Morgannwg, Morris Edwards, Davidson's Welsh Airs and other melodies from Llio's childhood.
There are exquisite solo triple-harp compositions, which will delight admirers of Llio's previous releases, Enlli (2002) and Gwenllian (2005), but there are also sensitive duos with flugelhorn as well as trios consisting of triple harp, muted trumpet and drums. The melodies themselves are timeless, and the instruments combine beautifully to create unique musical statements that are at once ancient and modern.
Llio Rhydderch is renowned as the most innovative and influential of Welsh triple harpists. The release of 'Carn Ingli' with Tomos Williams will only cement that reputation.
Llio says: "Had it not been for Tomos and his numerous visits to Ynys Môn from Cardiff, encouraging me to collaborate with him, this CD would probably not have come into being. The recording took place in the shadow of Carn Ingli, an inspiring landscape, full of the 'Magic of Dyfed' and most of the music was entirely improvised. It was a unique, exciting and daring adventure but, at the same time, one which gave us immense pleasure and satisfaction".
Tomos adds: "I've always been drawn to the combination of improvisation and melody that is so evident in Llio's playing and I was very eager to record with her. It has been a real privilege – and it feels as though we've taken the music to new places. Trumpet, triple harp and drums might not strike everyone as the most obvious combination, but I think that it really works. The recording was all about listening to each other and being in the moment - there's a lot of improvisation on there – and, to my mind, the result is something quite special."
Richard Jones (fflach records) adds: "It's a significant year for us, celebrating 30 years of survival in the recording business as a record label based in West Wales. And it's a source of pleasure for us that we can mark the occasion by releasing a new CD by one of our best-sellers, Llio Rhydderch. It is testament to her creativity that, on her 5th release with us, she was willing to team up with a jazz-trumpeter, Tomos Williams, and continue to push her music in new directions and explore new sounds."
The striking booklet that accompanies the CD contains paintings of Carn Ingli and north Pembrokeshire by local artist Iwan Dafis and sleeve notes by the author and cultural commentator Jon Gower, as well as personal notes from Llio and Tomos.
Carn Ingli was selected as FROOTS's favourite new album and the quote was "Sublime pairing of triple harp and trumpet"
Llio rhydderch
Llio Rhydderch a Tomos Williams: Carn Ingli

Mae Llio Rhydderch yn rhyddhau ei phumed CD 'Carn Ingli', yng nghwmni'r trwmpedwr Tomos Williams ar label fflach:tradd, wrth i'r cwmni o Orllewin Cymru ddathlu 30 mlynedd fel un o brif gwmnïau recordio Cymru.

Bu'r delynores deires adnabyddus Llio Rhydderch yn cyd-weithio â'r trwmpedwr Tomos Williams ar ei CD newydd hudolus 'Carn Ingli – Hud ar Ddyfed'. Ar y record, mae'r cerddorion yn ail-dafoli rhai o alawon gwerin mwyaf trawiadol y traddodiad Cymreig.

Recordiwyd y CD mewn hen borthdy Tuduraidd wrth droed mynydd Carn Ingli, yng ngogledd Sir Benfro, ac mae 'hud' yr ardal honno yn ddylanwad sicr ar y gerddoriaeth.

Mae'r CD yn cynnwys traciau unigol, deuawdau a thriawdau; alawon gwerin Cymreig bob un, wedi'u dethol o lawysgrifau John Parry, Iolo Morgannwg, Morris Edwards, Casgliad Davidson ac alawon eraill o blentyndod Llio.

Cyflwynir unawdau amheuthun ar y delyn deires y bydd eu sŵn yn gyfarwydd i'r rheiny a glywodd recordiadau blaenorol Llio, Enlli (2002) a Gwenllian (2005). Ond mae yma hefyd ddeuawdau sensitif â'r flugelhorn a thriawdau - telyn-deires, trwmped Tomos a drymiau hynod sensitif Mark O'Connor. Mae'r alawon gwreiddiol yn ogoneddus a'r cyfuniad unigryw o offerynnau yn asio'n hyfryd i greu datganiad cerddorol sydd yn gwbl fodern ac eto'n dryw i'r alawon gwreiddiol a'u traddodiad.

Llio Rhydderch yw telynores deires fwyaf ysbrydoledig a dylanwadol Cymru a bydd 'Carn Ingi', gyda Tomos Williams, yn siŵr o ategu'r farn honno.

Dywed Llio: "Mae'n bur debyg na fyddwn i wedi recordio'r CD oni bai am ddyfalbarhad ac anogaeth Tomos wrth iddo deithio'n ôl ac ymlaen rhwng de a gogledd Cymru. Yng nghysgod Carn Ingli y recordiwyd y CD, mewn ardal yn llawn o ysbrydoliaeth yr "Hud ar Ddyfed". Roedd y bysedd yn cerdded y tannau heb wybod i ble y caent eu hudo gan yr awen. Roedd y profiad yn un cwbl unigryw, yn gyffrous, mentrus a beiddgar ond yn un a esgorodd hefyd ar bleser a bodlonrwydd mawr."

Meddai Tomos: "Mae'r cyfuniad o chwarae alawon a byrfyfyrio, sydd mor amlwg yng ngherddoriaeth Llio, wastad wedi apelio ata i. Roedd yn fraint cael cyd-weithio a recordio gyda Llio, ac mae yna deimlad o fynd â'r gerddoriaeth i dir newydd. Bydd y cyfuniad o drwmped, telyn deires a drymiau'n taro rhai fel cyfuniad rhyfedd ond yn fy marn i, mae'n gweithio'n ardderchog. Roedd y recordio ei hun yn broses gyfrin – gwrando ar ein gilydd a chwarae 'yn y foment'. Mae'r hyn ddaeth allan yn teimlo'n reit arbennig."

Ychwanega Richard Jones o gwmni fflach: "Mae'n flwyddyn nodedig i ni, wrth i ni ddathlu 30 mlynedd fel cwmni o Orllewin Cymru yn y diwydiant recordio. Mae hi'n arwyddocaol ein bod ni'n gallu rhyddhau CD newydd gan Llio, un o'n gwerthwyr gorau, yn ystod y flwyddyn hon. Mae'n brawf o greadigrwydd ac ymrwymiad Llio at ei chrefft ei bod hi'n fodlon cydweithio â thrwmpedwr jazz, Tomos Williams, ar ei phumed CD i fflach:tradd. Ma' hi'n dal i estyn a chyfoethogi traddodiad y mae hi'n hollol ganolog iddo. Mae hi'n gwthio'r ffiniau unwaith eto."

Cyflwynir y CD ar y cyd â llyfryn trawiadol sy'n cynnwys darluniau o Garn Ingli a Gogledd Sir Benfro gan yr artist lleol Iwan Dafis, nodiadau gan y nofelydd Jon Gower, yn ogystal â nodiadau personol gan Llio a Tomos.
Llio rhydderch
Llio rhydderch
---
Available from:-
Fflach Tradd., Llys-y-Coed, Heol Dinbych-y-Pysgod, Aberteifi, Ceredigion, SA43 3AH, Wales, UK
Tel: 01239 614691Fax: 01239 614680,
e-mail [email protected], web-site www.fflach.co.uk
Support your local retailer by ordering through them if possible.
Order ref:- Fflach Tradd. CD 287H