Llio rhydderch
Llio rhydderch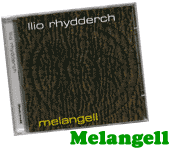 Llio rhydderch
Megangell
This is the second solo CD from Llio Rhydderch and features music on the Welsh triple harp, played in her own inimitable style. Llio is becoming very well known in the traditional music world and has worked with very well-known Irish musician Donal Lunny on a millennium TV programme which was seen worldwide, produced by RTE. This CD is indeed a progression from Telyn. In the words of Andrew Cronshaw, Folk Roots: '... in Llio Rhydderch resides the living tradition of the old Welsh harpers in all its glory...in this enormously skillful, brilliantly creative player of the triple harp.'
---
Latest responses to Melangell include the following:-
'One listens in wonder at the skill and creativity of this daring player of the triple harp ... an exceptional performance executed with remarkable artistry'
Dr. Wyn Thomas, University of Bangor, Music Department BBC Cymru website July 2000
'Consummate and spell-binding musicianship'
Delyth Jenkins Taplas, August/September 2000
'Amazing and really magnificent playing'
Laoise Kelly of the Bumblebees
'She seeks out the possibilities of the triple harp to the very extreme and demonstrates incredible skill and complete mastery of the instrument. A masterpiece!
Tudur Huws Jones, Yr Herald, July 2000
'a most excellent and evocative triple harp CD.....played with wonderful breadth and utmost sensitivity, feeling and deep understanding'
Derek Bell of the Chieftains
Llio rhydderch
Llio rhydderch
---
Track Information
melangell
tri croen
castell rhos y lla
blodau'r grug
alawon môn
y bardd yn ei awen
alaw i nansi (teyrnged disgybl)
dafydd y garreg wen
Cwaltz trefforest
farwel i f'engctid
gorweddwch eich hun
difyrrwch y brenin
ar lan y môr
breuddwyd y frenhines
ffarwell i gymru
---
Available from:-
Fflach Tradd., Llys-y-Coed, Heol Dinbych-y-Pysgod, Aberteifi, Ceredigion, SA43 3AH, Wales, UK. Tel: 01239 614691, Fax: 01239 614680, e-mail [email protected], web-site www.fflach.co.uk
The melangell CD is also for sale at Eglwys Santes Melangell, Pennant Melangell.
Support your local retailer by ordering through them if possible.
Order ref:- Fflach Tradd. CD234H
Telyn is distributed by ADA in Britian, Keltia Musique in Brittany & Europe, Claddagh Records and Clo Iar Connachta in Ireland, Andy's Front Hall, Gael Force Imports & Sidestreet Distributing in USA & Canada.