Llio rhydderch
Llio rhydderch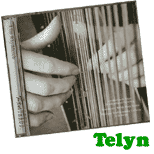 Llio rhydderch
Llio Rhydderch's "Telyn" has made a huge impression in world traditional music. She has toured Britain and appears on the official Rugby World Cup CD with Bryn Terfel and Shirley Bassey. "Brilliant Harp Wizard", Derek Bell, The Chieftains.
Llio rhydderch
Llio rhydderch
Track Information
Consêt y Siri
Consêt Ifan Glan Teifi. Lliw ymysg Drain. Consêt Gruffudd Rowlant y Crythor
Difyrrwch Gwyr y Gogledd. Consêt Arglwyddes Treffael
Mi fendi di pan ddaw yr haf
Eyri Wen
Syr Harri Ddu
Y Wenynen
Concerto'r Telynwyr
Caru Doli. Barwn Merthyr. Miniwét Nannau
Cnocell y Coed. Consêt Gwyr Pen Morfa. Malltraeth
Hoffedd Tomos Dafis. Pibddawns Prydderch. The Coster's Wedding
Biwmares March
O Langefni. Began gollodd ei gardas
Mwynen Machno
Y Pural Fesur.

Available from:-
Fflach Tradd., Llys-y-Coed, Heol Dinbych-y-Pysgod, Aberteifi, Ceredigion, SA43 3AH, Wales, UK. Tel: 01239 614691, Fax: 01239 614680, e-mail [email protected], web-site www.fflach.co.uk
Support your local retailer by ordering through them if possible.
Order ref:- Fflach Tradd. CD196H
Telyn is distributed by ADA in Britian, Keltia Musique in Brittany & Europe, Claddagh Records and Clo Iar Connachta in Ireland, Andy's Front Hall, Gael Force Imports & Sidestreet Distributing in USA & Canada.